You choose what you want us to make, give us some basic guidelines, pick out pretty glass and then we get busy and get creative.  Call ahead to schedule a planning session with Rebekah.
Here are a few examples:
50th Anniversary: The customer bought my very first dancing couple plate and loved it so much that she wanted another made especially to celebrate her mom and dad's 50th anniversary.  The gold 50th along the skirt hem is made with actual gold leaf.  This piece is 12″ x 12″.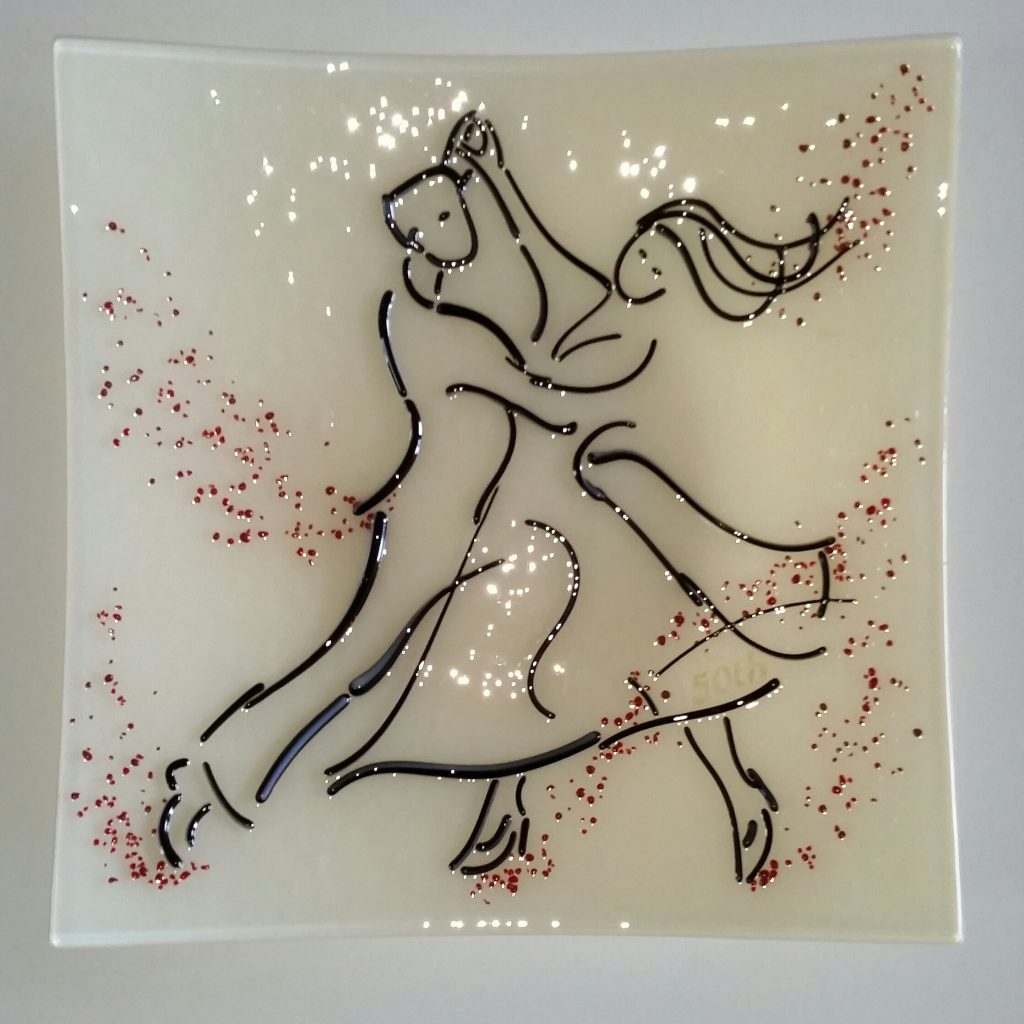 Tulips, Please: The customer wanted a glass panel for his wife with tulips and a hummingbird to mount in the master bath above the sinks.  This piece is 10.5″ x 7.5″.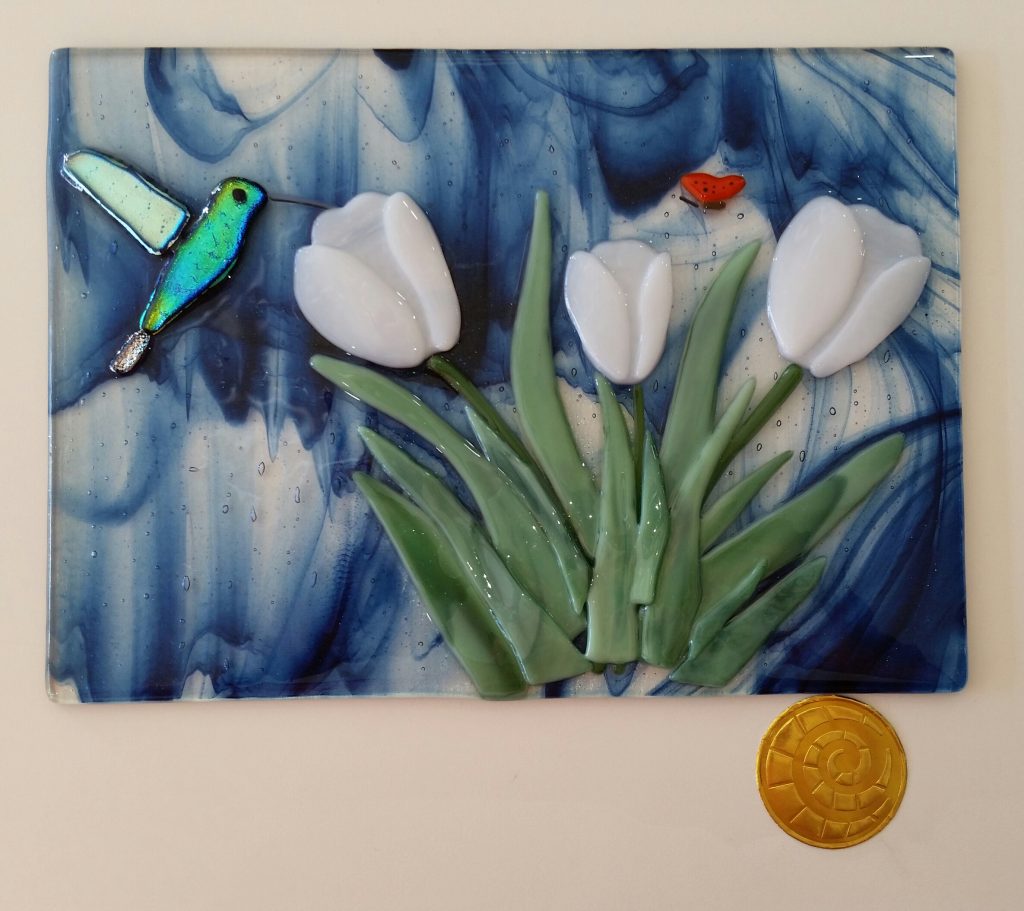 Fill the Frame: The customer had an old frame that she wanted pretty glass added to hang on her wall.  Since it was too large for a single glass panel to fit in our kiln, we did three complementary panels.  Each panel is roughly 12″ wide and 13″ tall.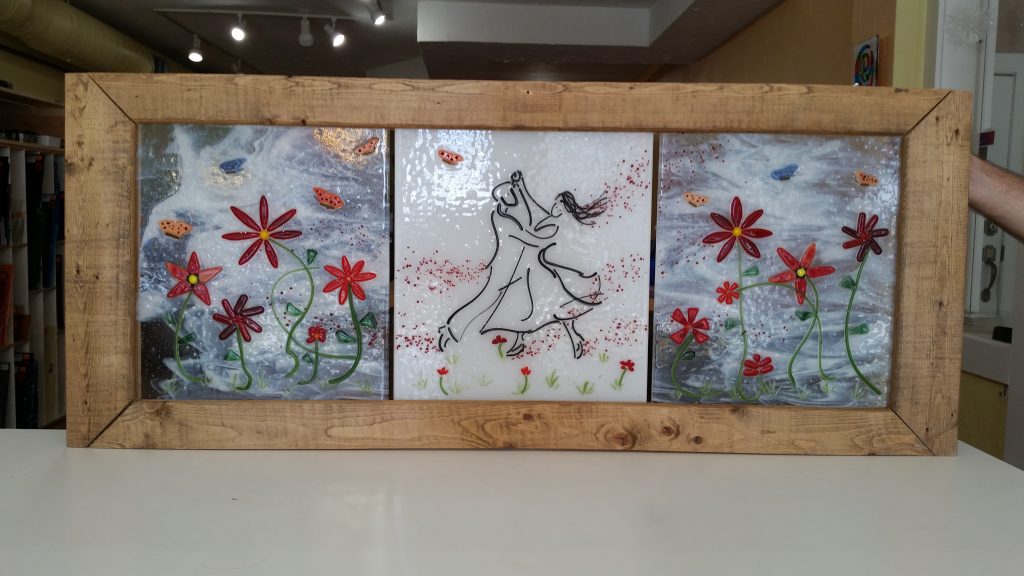 Stepping Stone: The customer asked for a stepping stone for his garden path with red flowers and a hummingbird.  This is 10″ diameter and about 1/2″ thick.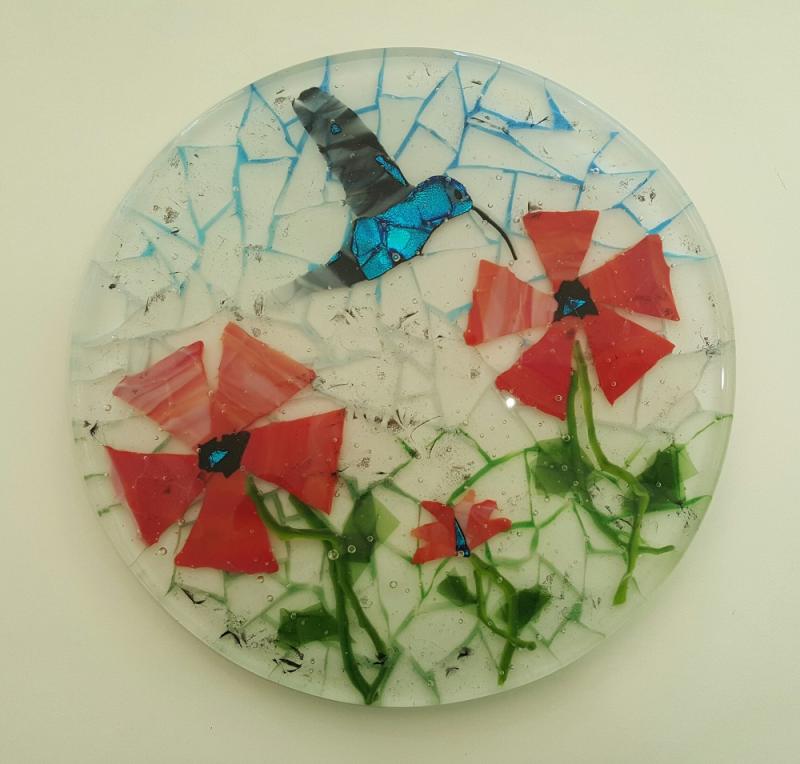 Giant Cross: The customer wanted a mosaic cross as large as we could make one.  The cross is 3″ wide with an arm span of 20″ and 31″ tall.  Sorry about the picture quality, it is hung in a really high window.
Memory Panel: The customer wanted us to incorporate specific elements from the NW coastal region that would help trigger positive memories for his aging mother. This piece is 17″ x 12″.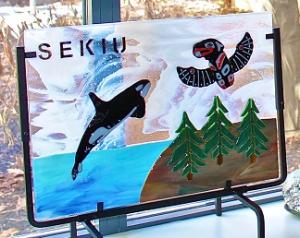 Football Fans: This customer wanted a piece that had a football theme but not all about football.  We chose glass that was the team colors (Broncos) and modified the 4-corners design to be a football.  It was slumped into a gentle swoop mold, but I forgot to take pictures once it was all done.  This piece is 12.5″ x 7.5″.